WISA Clean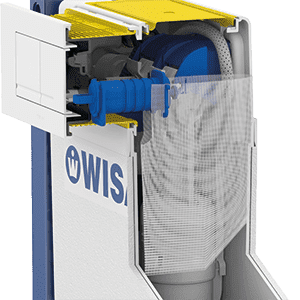 WISA CLEAN by Frescoblue

The portal to a daily fresh toilet
Beautiful on the outside, smart on the inside
WISA has developed the WISA Clean concept in collaboration with FrescoBlue.
This unique concept ensures that users will experience every toilet visit as clean and hygienic.
Via the portal in the specially developed control panel you can add a FrescoTablet to the flushing water in the reservoir in no time at all. Placing or removing traditional sink baskets in the rim of the sink is now a thing of the past.
In addition to the aesthetic aspect, WISA Clean has a number of other advantages.
The flushing water cleans the wall-hung toilet with every flush in places that you would otherwise never be able to reach.
It creates an invisible film on the ceramic so that dirt adheres less easily to the surface.
This means you don't have to clean the toilet as often.
Bacteria are automatically killed with every rinse.
The blue water that remains in the water seal indicates that the toilet has been flushed with special water.
WISA Clean can be used in combination with any WISA XT concealed cistern. Place the Kantos control panel with portal and filter on the reservoir and experience the ultimate freshness every day.
In addition to WISA Clean for the wall closet, there is also a special solution for the standing closet. This toilet can also be cleaned with every flush as described above.
Experience the convenience of WISA Clean in your home, office or hotel.
Suitable Kantos control panels

That's why the FrescoTablet is the best choice!
The FrescoTablet consists of natural materials that are 100% biodegradable.
Every flush is a new cleaning of the toilet (also under the rim of the toilet).
Ideal for rimless wall mounted toilets.
The continuous cleaning creates an extremely smooth surface.
An effective bactericidal effect.
The rinse water has a fresh blue color.
The FrescoTablet has a descaling effect.
Additional bleach and descaling agents are not necessary.
Make every toilet flush a cleaning
The unique FrescoTablet keeps the toilet fresh and hygienically clean at all times, even between cleanings.
FrescoBlue has developed a unique cleaning tablet with extremely powerful cleaning properties. The Fresco Tablet
turns every toilet flush into a cleaning. With the effect that your toilets, also between cleanings, are continuously fresh
and hygienically clean and are experienced as such.
Bucket with 52 FrescoTablets - WISA art. no. 6050411215
WISA CLEAN keeps your toilet continuously fresh, hygienic and clean!